Its been awhile since I have blogged and I have been very busy project wise. I had an order from my etsy store to make these 2 sets of hats and fingerless gloves. I thought the black set would be the easy one since I already had black yarn. The gloves were no problem but once I got to the hat it was a challenge I was almost done with it and I discovered I had a twisted strand and with the yarn being black i just decided to rip it and start all over again. It took me an additional 2 days the pattern is so meticulous and your stitches have to be perfect or it just wont work out.
Then I had to go smaller with the second set because it was for a 9 year old with the changing colors. I was throwing back and forth the idea to change colors with this hat to see if it would be doable. I have done this hat so much that I memorized it. I thought the gloves would be easy.  I made the loom 18 pegs instead of going 24 it took me at least 2 days to get this right. Normally I do a crochet cast off but for this set I would use a stretchy it didn't even fit my toddler.
I finally got it done on Sunday and I was shooting for a Friday deadline. Now the plus side is I know what size and what to do the next time I try this.
While I would take "breaks" from knitting these sets for my order I would be knitting dishcloths and pot holders I have the t-shirt yarn from lion brand I have been holding onto all this time. I thought they would make good pot holders. So I casted on 15 stitches and went till I hit about 8 inches.  Here is a picture below. I think Im going to keep these ones for us. Until I get better.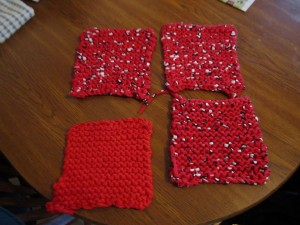 Another thing I have been doing is trying to knit dishcloths. I had to find the right needles the aluminum ones were way to large and the toddler thought they were "noodles." I found 7 bamboo needles at Michael's and then went on my trying to knit the perfect square dishcloth. The blue one was much wider and rectangular I went to 44 stitches on that. I was going off what my mother in law does. The second one I went to 36 inches and it seems more square to me. We just have to wash it to see.
Thats all I have for now till later.