Now we are going to transfer stitches to the DPN (this will be the front needle) Putting your needle into the first stitch purl wise continue till you have 32 stitches on the DPN.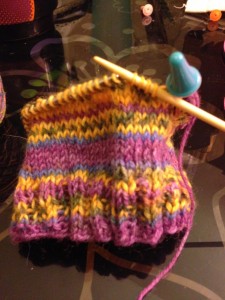 Now that you have 32 on your first DPN go ahead and transfer to your second DPN. (Your 9″ will be in a crescent shape)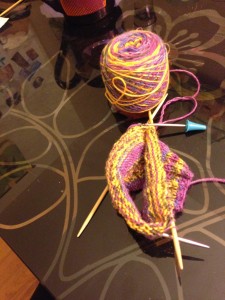 You should have your stitches on 2 DPNs with 32 stitches front and back needle. Notice your working yarn is on the back needle.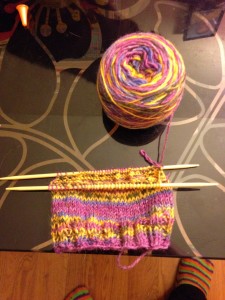 Put point protectors on your front needle so your stitches don't slip off. (I use point protectors on the opposite needle where your working yarn is)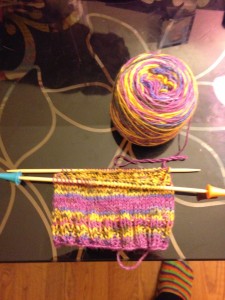 Put your 9" circular aside we will be working back and forth on the back needle for 30 rows now.
(I prefer to do my heel flap on 2 DPNs where it is less fiddly.)
HEEL FLAP:
Step 1: Take a 3rd DPN where your working yarn is and knit your first stitch after that you want start purling across on the wrong side slip your last stitch as if to purl. Once you are about 8 rows in it will look like this (This is the inside of your sock)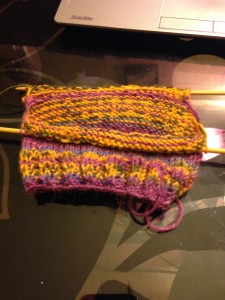 Step 2: Knit the first stitch, slip the next stitch purl wise, you will continue until the end of the row, bringing your working yarn to the front and ending with a slipped stitch Once you are about 8 rows in it will look like this. (This is the outside of your sock)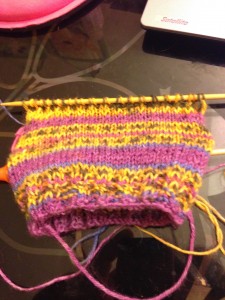 Continue until you have 30 rows and slip the last stitch and turn your work. So you have the Purl side facing you. (Its ok if your sides are curling, you will pick those up soon)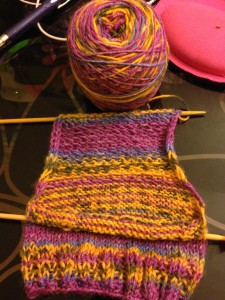 This next picture is your (Public Side) of your work