Since February I have been challenging myself with new techniques the 2 I have tried recently were cabling and socks (2 seperate projects)
The Apple  Pie Hat by tincanknits excited me I  have knit enough barley's in the past few months I was looking for something new to knit and challenge myself and something new to show my mother in law when she returned from her trip. this pattern got me excited me when I saw it on instagram I knew I had to knit it right away. The pattern was very meditative and addicting. I would lay in bed at night thinking I want to finish that hat! A friend told me shes surprised how patient I am with complex patterns and not so with the social aspect sometimes. So here it is the picture of my apple pie hat. Its not perfect but I was really intending it for me and not a gift. I still need to work on my decreases on double points.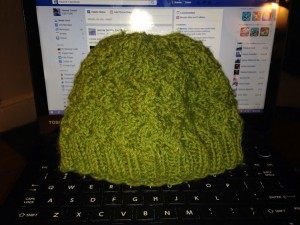 Next challenge socks. I've tried them before doing Magic Loop. I just can't close my gaps when I do it. So I bought a 9″ circular I thought it might be easier to go around and I was right. I even tried doing stockinette doing magic loop again gaps and dropped stitches. Only downfall to doing a 9″ circular is dropping stitches so I always have a locking stitch marker on the bottom (or top since I am doing cuff down) attached incase I do.I am doing 72 stitches around since my one leg is more thick then the other and  I am at 6″ so far and need to go to 7 before I transfer to dpns to do the heel. My first attempt going this far I am impressed with myselff. Here is a picture from today.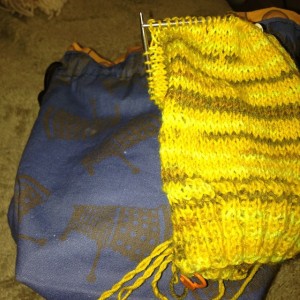 So far that's all I have to say. Until next time.