Let me tell you life has been busy lately,I will discuss that a little bit later but I am still knitting up a storm in the meantime.
On the needles and Looms…
I have a cowl that is out of lion brand tweed stripe mixed berries I decided after I did a hat that I have a better chance selling "sets" as  in hat and cowl our hat and scarf so after I made a hat out of the same yarn I decided to do a 5 purl 5 knit for 5 sections this is my result so far. I am really liking the dark to light effect I have  only about 10 more rows to go till I cast off…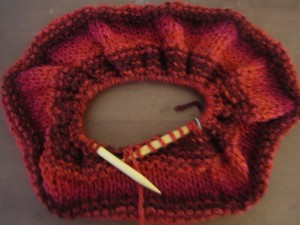 Secondly I am working on baby hats. They are always big sellers at craft shows I found this yarn a couple years ago in the clearance bin @ AC Moore right now there is a  brim I have 2 done if you scroll down even further.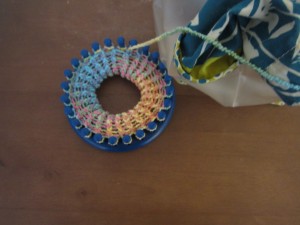 Finished Objects…
Here is the hat that goes with the cowl. It was done on the Martha Stewart Loom by Lion Brand. In the previous post it is the same hat smaller in size for my sister in law.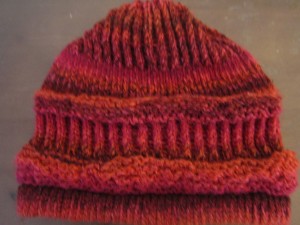 These are the baby hats that you saw earlier completed w… unsure yet if I am going to do green or brown for boys.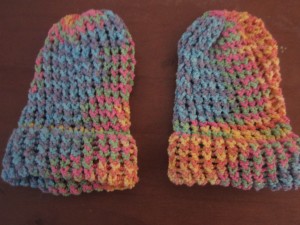 This is a hat cowl boot cuff set that I made I think I am going to put the boot cuffs on my Etsy site they sell better over there. Its out of loops  and threads impeccable  out o the color folklore.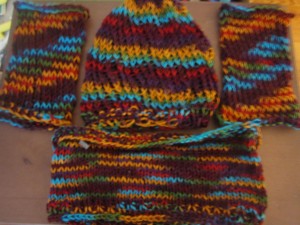 Finally I have this cowl I made its my go to cowl pattern I found on Raverly. It's called the Kinetic cowl its really simple to do and once you do rows 1 to 5 you basically do 4 more repeats.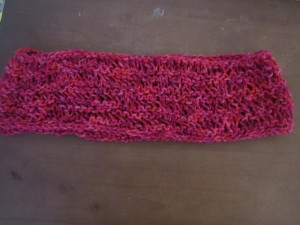 High Spirits….
Well my husband and I are coming up to the preschool years for the buddy. He starts in September and is very excited. He is also a crafty one like me like I said before. He has a ball of hometown usa he "knits" with and being 3.5 its adorable.
So before preschool this mommy will take a 2 week vacation to see hers in the Bay Area.  So excited to go to break up the routine and rejuvinate myself.
So thats it for now I will talk to you later.