I haven't updated since August on the blanket task I have taken on I have almost 1 blanket complete and on the second one I have about a 3rd done I have taken some pictures and decided to share so here they are ..
I admit I got bored with the Martha Loom so I switched to my new S loom from Authentic Knitting Board. Its a nice loom and its compact more then the one I built with my Martha Loom. The only one  issue I have with it is that the pegs come out as I am working so it slows the process down. I have to find some way to work on this blanket faster to get it done. Also,its a tighter gauge so  I am thinking more skeins for this one as you see I am about a third of the way done on here …
This is  the first blanket I started on my Martha Loom the loom I built is 100 pegs in the round and I forgot to mention that these blankets are made in the flat panel method.  This one is almost finished with about 40 more rows to go add another 15 on that to finish the border and I will be finished with it.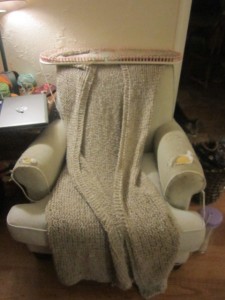 After these 2 I have another couple to go then I am finished. I am trying to get the Martha one done so I can start on the 3rd one … The goal is Christmas I will have these done.